Which Elbow Ice Pack is Best for You
With so many ice packs and cold wraps being sold online, it is easy to get lost in the search for the best product. Websites such as eBay and Amazon are offering thousands of products, all of which are making wild claims and ludicrous offers. So, which is the best product for your injured elbow? Below is a list of our reviews, and tests of the products we found for back injuries, and the real ratings we think they should get.
King Brand Elbow ColdCure Wrap
Comfortable and High Quality Wrap
$59.99 - $64.95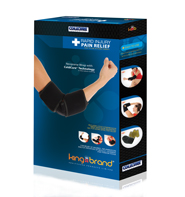 The wraps offered by King Brand have the best performance, quality and treatment by far. This 'ColdCure' Elbow Wrap is made from a very comfortable, neoprene fabric and offers complete coverage for every type of elbow ailment. It comes with multiple gel packs for a non-stop cold therapy treatment and each of the gels had exceptional cold capacity. The wrap itself is made from high quality materials and didn't feel like a burden to wear. It was hard finding any flaws with this product and the King Brand wrap was well deserving of our first place award.
Wraps Offered At: kingbrand.com
KB Basics Elbow Cold Wrap
Effective Cooling Capability On A Budget
$24.99 - $29.99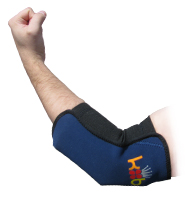 Another great success with the value of the KB Basics Elbow Cold Wrap from King Brand. They use their RigiGel technology that's in their 'ColdCure' products in their basics line, making this elbow ice wrap an effective means to treat inflammation on a budget. With exceptional cooling performance and comfort, the KB Elbow Cold Wrap has it's own protective bag to store the wrap in during the re-charge cycle. Either the fridge or the freezer depending on the degree of coldness desired. Even though we speak highly of this product, the reason it doesn't get five stars along with the King Brand ColdCure Elbow Wrap is because it only comes with one gel pack, so you can't do back to back treatments. Noting this as the only flaw, a four star verdict is delivered.
Wraps Offered At: kingbrand.com
Mueller Hot/Cold Therapy Wrap
Long Straps, Short Cooling
$12.95 - $19.95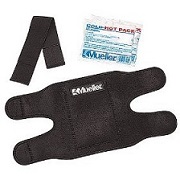 For people on a budget, this would be an acceptable choice. There are a few major flaws with this wrap though. The ice packets inside this wrap are so small that they heat up after a couple minutes of being on your skin. The straps have been made to accommodate either large or small build, but the low quality fabric makes this wrap itchy when applied. The heating process is tedious as it is not microwave safe. This wrap, if you have enough time to dedicate to it, should only be used for warmth, as the heat lasts longer than the cold does.
Wraps Offered At: carewaywellness.com
Elasto-Gel Elbow Ice Wrap
Nice Materials, Small Size
$21.99 - $28.77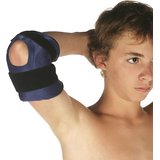 This wrap is made with very comfortable, soft materials. It is definitely well-made and good quality. However, the small size of the wrap will mean that many adults won't be able to wear it. Children and smaller people will find that it fits well, but larger people probably won't be able to wrap it around their elbow. In addition to the issue of size, there's the cooling aspect, which is the biggest problem with the wrap. The cold diminishes very quickly, which is why this product only has 3 stars. Overall, this wrap is only ideal for very small people who only require a little bit of cooling.
Wraps Offered At: amazon.com
Pro-Tec Hot/Cold Therapy Wrap
Perfect For XL Elbows Only
$23.74 - $39.60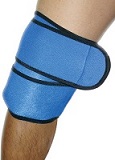 There is not a lot of material to keep the cold from chilling the skin too much. Having a layer of material between the wrap and your skin is almost essential for the cold application of this product. The wrap and gel packs refuse to stay in place, even if staying completely still. The material is extremely bulky, making this product extremely uncomfortable for people with smaller elbows. The wrap is big enough that it could be targetted for knee applications. Once the cold pack is frozen, the product is no longer pliable, making the application of this product around a sore elbow almost impossible.
Wraps Offered At: amazon.com
Active Wrap Elbow Wrap
One Size Fits Some
$34.99 - $37.99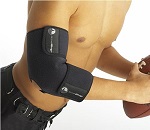 A lot of the reviews say that this wrap is built to fit a mans arm, and I would have to agree. There is an excessive amount of material that makes this wrap very bulky, and doesn't form well to smaller arms. The gel pack hovers above the skin by an inch or so, making this wrap not good at all for cold compression. When the product was delivered, it was a different wrap than the pictures on the website. I'm not sure if these wraps had a recent update, but I would have liked to try the wrap that was shown in the picture. The ad describes a 'universal fit' and this statement isn't true.
Wraps Offered At: braceshop.com
Dr. Cool Ice Therapy Wrap (Medium)
Get Ready For a Mess
$19.41 - $29.99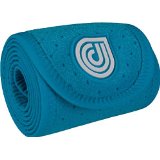 This product is a terrible idea. You're supposed to wet it, freeze it and apply it to your elbow. And then watch it melt and make a huge mess. It's probably best to wear a layer of clothing (or some sort of fabric) underneath it to avoid freezer burns. Either way, you will be left with a mess. This is no different than sticking a wet towel in the freezer and applying it to your skin. The cold doesn't last as long as it does with products that use gel, and since there is no barrier between the product and your skin, it's much less safe. Would not use again.
Wraps Offered At: drcoolrecovery.com
Cold One 3 in 1 Elbow Wrap
Uncomfortable & Ineffective
$42.00 - $45.00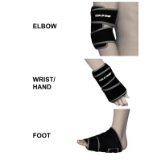 Let's face it - wraps designed for three different body parts are not the best idea. You need a wrap that's shaped for the specific body part you want to target to get the best treatment possible. It's very hard to position this wrap so that it treats an entire Tennis Elbow or Golfer's Elbow injury. Besides that, it doesn't even stay cold long enough to do anything. Like the other Cold One wraps, the 3-in-1 model also contains a liquid that freezes into a hard, ice-like substance. This makes it painful to move your elbow when wearing the wrap, when you're already in pain as it is.
Wraps Offered At: dme-direct.com
Advertisements
Copyright 2011-2023 King Brand Healthcare Products® Limited. All Rights Reserved.
Meniscus Injury Treatment,
Muscle Injury Treatment,
Neck Injury Treatment,
Plantar Fasciitis Injury Treatment,
Shoulder Injury Treatment,
Tendon Injury Treatment,
Wrist Injury Treatment,
BFST Wraps,
Blood Flow Stimulation Medical Devices,
Blood Flow Stimulation Therapy,
Blood Flow Stimulation Wraps,
LCL Injury Treatment,
MCL Injury Treatment,
ACL Injury Treatment,
PCL Injury Treatment.
King Brand
®
ColdCure
®
Cold Therapy ice packs and gels are the best solution to your ankle soft tissue injury. King Brand
®
ColdCure
®
RigiGel
®
Ankle Wraps hold the cold longer, stay in place and are safer than any other product. Treat your ankle pain with King Brand
®
for the best results.